2008 Projects
John Nichols Manuscript Collection
John Nichols famously saves every manuscript he has ever worked on: the packrat of American letters. And the University of New Mexico is glad of it. Now the University of New Mexico, Center for Southwest Research (CSWR) gives John's manuscripts a loving home, making room for him to begin filling the storage locker in Taos once again. Read More of the John Nichols Manuscript Collection article...
---
Hanging with Bats:  Ecobats, Vampires, and Movie Stars
Whether they're darting across the evening sky in search of their breakfast or hanging from their upside-down roosts in caves, old mines, buildings, and trees, bats play a crucial role in the natural world but are all too often misunderstood by people who think of them as strange birds, flying rats, or Dracula in disguise. Karen Taschek's thoughtful and engaging exploration introduces young readers to the complicated and fascinating world of bats, both in their natural habitats and in the human imagination. Containing a wide range of bat-related topics, from their relationships with ecosystems to why you shouldn't be afraid of vampires, Hanging with Bats addresses echolocation, vocalization, migration patterns, and breeding habits with enthusiasm. Taschek also includes information on what to do if a bat gets in your house, building bat houses, and how to imitate bat "talk." Read More of the Hanging with Bats article...
---
The Spanish Language of New Mexico and Southern Colorado:  A Linguistic Atlas.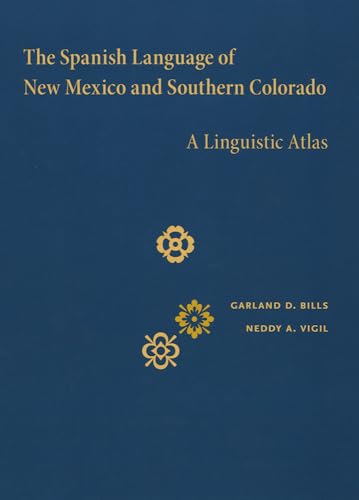 The Spanish language and Hispanic culture have left indelible impressions on the landscape of the southwestern United States. The role of cultural and geographical influence has had dramatic effects on the sustainability of the Spanish language and also its development and change. In a linguistic exploration that delves into a language as it is spoken by the Hispanic population of New Mexico and southern Colorado, historical substantiation shows the condition of New Mexican Spanish and what the future holds for its speakers. With two major dialect regions, one in the north and one in the south, detailed maps illustrate the geography of linguistic variation for the Spanish spoken in the region, whose generations of speakers were not only influenced by other languages, but also developed their own variations of words and structure out of need or innovation.
This diverse language has evolved since its origin in Spain with influences that include Native American languages, exposure to English, and Mexican immigration in the twentieth century. Snippets of New Mexican folklore and folk etymology give voice to that evolution. Though this work doesn't attempt to save the New Mexican Spanish language, Bills and Vigil detail the effects of inevitable encroachment that intensified during the twentieth century and seriously threaten the continued viability of this unique dialect.
Read More of the Spanish Language of New Mexico and Southern Colorado article...
---
Acequias y Mercedes - Land, Water & Cultural Landscapes of New Mexico Documentary Field School
In June 2008,  UNM and The New Mexico Acequia Association cosponsored the 3rd Annual Acequias y Mercedes Documentary Field School. Read More of the Acequias y Mercedes article...
---
Acequia de Juan del Oso:  John the Bear and the Water of Life,  Enrique La Madrid & Juan Estevan Arellano. Illustrated by Amy Cordova.
From the mountains of northern Spain to the Andes in South America, Spanish-speaking people have told ancient legends of Juan del Oso and his friends. In this children's tale, agriculturalist Juan Estevan Arellano and folklorist Enrique Lamadrid share a unique version of a celebrated story that has been told in northern New Mexico for centuries. Read More of the Acequia de Juan del Oso article...
---
Virtual Embudo Project
This  research project was conducted with the goal of developing a digital archive using interactive media and open source applications to generate a multi-faceted public community database. Based in the Embudo Valley of northern New Mexico this research documents the architectural and cultural landscapes of this historic community. Read More about the Virtual Embudo...