Profiles of 2021-2022 CSWR Fellows
 Zonnie Gorman
Zonnie Gorman is a PhD candidate in History with a graduate minor in Museum Studies. Her areas of interest include indigenous masculinities, 20th century war, and memory and commemoration. As the daughter of a Navajo Code Talker, their story is of particular interest. A public historian for nearly thirty years, she has lectured professionally throughout the United States and Canada. She curated two exhibits on the Navajo Code Talkers, one in 2001, and most recently, served on the curatorial team as an SME for the expansion of the Navajo Code Talker display at the National Marine Corps Museum in Quantico, VA. As a graduate student, she presented at several history and archivist conferences. She was a 2013 NARA Regional Residency fellow, and in 2018, a participant in the Newberry Consortium in American Indian Studies Workshop in Research Methods. She currently holds a CRS/CSWR Assistantship to work on two Navajo Code Talker collections.


Joshua Heckman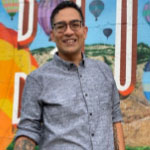 Josh Heckman-Archibeque is currently a Ph.D. candidate in American studies and a fellow at the Center for Southwest Research. Josh's research focuses on the production and reproduction of working-class social relations in New Mexico. Josh was a TA/GA for four years in American Studies and was a substitute teacher with APS working at various schools like Rio Grande Highschool, Atrisco Heritage Academy, Jimmy Carter Middle school. Josh is an experienced community activist and union organizer who has worked with organizations such as MEChA de UNM and The Red Nation. They have organized community self-defense classes through Shifting Sands Dojo for People of Color, Working folks, and the LGBTQ+ Community. Josh is a teacher, worker, martial artist, and community member.
Maya Lazzaro Ba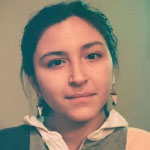 Maya Lazzaro Ba is a Native American scholar with the Culture & Media and Journalism & Design department at The New School: Eugene Lang. She is currently in her MA studies at the American Studies department at the University of New Mexico. She has served as a teaching assistant for two undergraduate courses, Creative Placemaking in Harlem and Migration/Immigration in Buenos Aires. For over two years she has been invited to teach various labs and classes at the Smithsonian Museum of American Indian and as taught there as an artist, artist educator and teacher. Maya has served as a Youth Educator at the Smithsonian for a hands-on educational exhibit on Native America innovation, science, math and medicine. Maya contributed in designing and opening the exhibit, and it remains open to this day, educating youth from all over the globe. Maya is Quechua, and mixed descent, including Italian and Jewish roots. She was born and raised in Brooklyn, New York (original territories Lenapehoking). Her personal values are strongly focused in Indigenous ancestral knowledge, revitalization of language and being an ethical scholar and educator in BIPOC science, culture, and art. Maya believes scholarship is found in research, methods, theory as well as on the land and stars. Her Quechua traditions have taught her the importance of storytelling, and record keeping; recently she has been researching the Quechua traditional use of quipus and its importance in recording and storing data.
Jeannette Martinez
Jeannette Martinez is a Salvadoran American scholar in the art history program in the Department of Art at the University of New Mexico. She has lectured introductory art and art history courses for over four years and has also dedicated herself to curatorial practices and student engagement in the museum space. Her areas of interest/research are on migrations, transnationalism, landscape, memory, feminism, processes of identity, among others. Jeannette's research engages in these topics through the lens of the Central American diaspora. More specifically, she researches the Central American diaspora by learning and writing about the artwork made by contemporary artists that navigate it. At The Center for Southwest Research, Jeannette holds a fellowship in the Pictorial Archives Department. She is currently working on processing the Buddy Mays collection. Mays was a prolific New Mexican photographer who photographed much of the American Southwest landscape as well as other regions in the United States and globally.
Breanna Reiss
Breanna Reiss is a PhD student in the Department of Art at UNM. She is an art historian who studies pre-Hispanic ceramics, primarily in coastal Ecuador and Peru, with a focus on their iconography and elements of their composition. She also received her M.A. from UNM where in partnership with the Earth and Planetary Sciences Department, she examined the chemical composition of rare blue and blue-green post-fire ceramic figurine colorants from Ecuador. Her dissertation explores the intersections between ancient Moche semasiographic plant motifs and the ethnobotanical uses of these identifiable plant species. Alongside teaching introductory art history courses, she is the Digital Initiatives and Scholarly Communications (DISC) Fellow. At DISC, she assists the department in their open access goals by scanning dissertations, theses, and other materials and adding them to the Digital Repository.