Profiles of 2020-2021 CRS Fellows
Len Nils Beké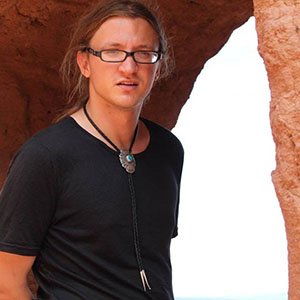 Len Beké is a PhD candidate in the Department of Spanish and Portuguese. In his dissertation, The Manito Topos Project: a critical toponymy of the Sierras of northern Nuevo México and southern Colorado, Len works with community knowledge bearers to document traditional Nuevomexicano place names. His fieldwork along the Sierra Sangre de Cristo has included a 500-mile field expedition by bicycle from Santa Fe, NM to El Alto del Cañón (Gardner), CO. He is developing a series of Manito topographic maps, incorporating over 700 place names that are in continued oral usage despite being omitted or Anglicized in the official cartographic record. He aims to gain access to the US Geological Survey field notes from 1947 to 1992, when the USGS was developing the 7.5 Minute (1/24,000) series of topographic maps. These field notes will provide insight into the (linguistic) ideologies that shaped the map-making process.
 Katie Brewer
Katie Brewer is a PhD candidate in the Department of Anthropology at the University of New Mexico (UNM). She is a historical archaeologist who specializes in Spanish colonial archaeology, particularly indigenous responses and resistance to Spanish colonization. Her dissertation research focuses on analyzing changes in burial patterns in five pueblos in New Mexico and Arizona from pre-Contact to post-Contact to study conversion (or forced conversion) to Spanish Catholicism as a result of missionization by Franciscan priests in the 17th century. She currently works as a graduate assistant in the Department of Anthropology and as a museum technician for the Maxwell Museum of Anthropology. She received her B.S. in Anthropology and History from Portland State University and her M.A. in Anthropology/Historical Archaeology from the University of West Florida. 
 Tania García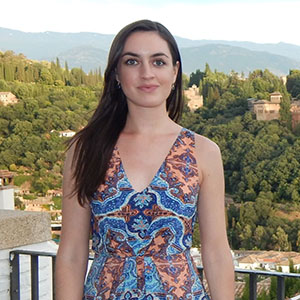 Tania García is a Doctor of Philosophy candidate in American Studies at the University of New Mexico currently researching literary and photographic hauntings along northern New Mexico and southern Colorado borderlands as a dimension of Southwest Studies. Along with teaching undergraduate courses in American Studies at UNM, such as Introduction to Southwest Studies and Introduction to Race, Class, and Ethnicity, Tania holds a doctoral dissertation research fellowship at UNM's Center for Regional Studies. Areas of study continuing to interest Tania include Transnational American Studies, Critical Trauma Studies, Visual Culture, Popular Culture, World Cinema, Black Transnationalism, Jewish and African Diaspora Studies, Genocide Studies, Indigenous Hawaiian Literature, and Southwest Studies. While in American Studies at UNM, Tania has researched comparative and cross-cultural topics such as Spanish National Cinema in a transnational context, Chicano/a, Native American, Asian American, and Native Hawaiian artistic expression as active resistance to U.S. imperialism and colonialism.
Laurie Lowrance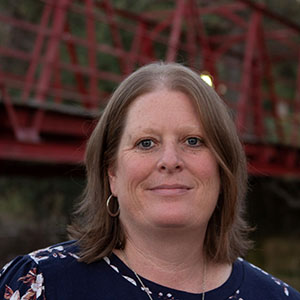 Laurie Lowrance is a PhD candidate in American Literary Studies and focuses on nineteenth and early twentieth century Southwestern literature and culture. Her dissertation reframes domesticity from the perspective of Native American and Mexican American women in the greater Southwest and examines their written responses to the convergence of multiple forms of domesticity after the Treaty of Guadalupe Hidalgo in 1848. She coined the term "regional domesticities" to define the specific domestic forms that emerge from this convergence and argues their presence illustrates the vital importance of interdisciplinary studies of domesticity, gender roles, folklore, regionalism, and settler colonialism in works about the greater Southwest. By developing a new framework for analysis – regional domesticities – Laurie's research expands the critical potential for regional studies to explain specific domestic practices across time and place, offers opportunities to bring attention to gendered oppression, and shores up the socially constructed role of gender.
Joseph Moreno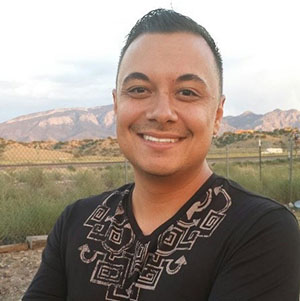 Joseph Moreno is from Bernalillo, NM, and is a 2001 graduate of Bernalillo High School. He received his Bachelor's degree from Colorado College in 2005 in Liberal Arts & Sciences, Anthropology, Southwest Studies, and Spanish, and received his Master's degree from UNM in 2008 in Language, Literacy, and Sociocultural Studies. Joseph is currently a PhD candidate in Language, Literacy, and Sociocultural Studies, focusing on the creation of a critical curriculum unit that examines how race, class, power, and identity impact Nuevomexicano language use, and an understanding of history and culture. The unit emphasizes the Bernalillo Matachines Dance, and Las Fiestas de San Lorenzo. Joseph currently lives in Bernalillo, serving in various capacities for the Town of Bernalillo, including the Planning & Zoning Commission, and the newly-created community history museum. He is also a long-time participant of Los Matachines dance, having danced for 20 years. 
Carlyn N. Pinkins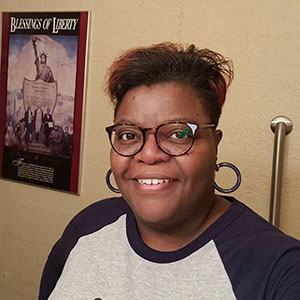 Carlyn N. Pinkins is a PhD candidate in the Department of History at the University of New Mexico with research interests in African American history in the Southwest and twentieth-century North American Indigenous history.  Her dissertation research focuses on black homesteaders in the territory and state of New Mexico in the first half of the twentieth century, exploring the motivations, urban and rural networks, and outcomes of black homesteaders who settled in and near Las Cruces, Roswell, Albuquerque, and Raton.  For the past six years, she has served as a researcher for the African American Museum and Cultural Center of New Mexico.  She is also a 2017 Margaret T. G. Burroughs and Charles H. Wright Fellow of the Association of African American Museums.  She has a B.A. and M.A. in History from Georgia Southern University.  Carlyn is also an avid soccer fan, supporting Liverpool FC and New Mexico United. 
Thatcher Rogers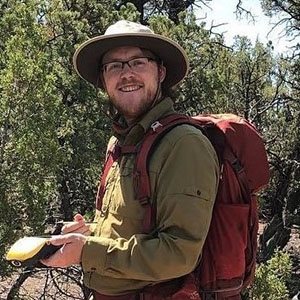 Thatcher Rogers is a PhD student in the Department of Anthropology at the University of New Mexico. He is an archaeologist who specializes in the archaeology of the prehispanic southern American Southwest/Northwest Mexico region with emphases in the topics of culture contact and exchange, quantitative analysis, and ceramic material culture. His dissertation research analyzes changes in ceramic production and exchange, mortuary and architectural patterns, and demography at over a dozen late prehispanic villages in the modern states of Arizona, New Mexico, Chihuahua, and Sonora from AD 1200 to 1500 to study the relationships between these communities to neighboring, hierarchically organized societies. He currently works as an archaeologist and ceramic analyst for the Office of Contract Archeology as well as for other New Mexico cultural resource management firms. He received his B.S. in Archaeological Studies from the University of Wisconsin—La Crosse and his M.S. in Anthropology from the University of New Mexico. 
Carmela M. Roybal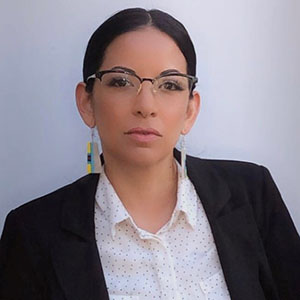 Carmela M. Roybal is a doctoral candidate in the Department of Sociology at the University of New Mexico. Her specialties include: medical sociology, bioethics, and public health with a focus on the study of race, gender, ethnicity, discrimination and health disparities. Her research uses intersectionality as a tool for examining racialized and gendered inequalities in health, with an emphasis on Indigenous peoples of the United States and globally. In addition, Carmela is a doctoral fellow at the Robert Wood Johnson Center for Health Policy. She is a senior research fellow at the American University of Sovereign Nations (AUSN) where, in 2017, she received her second master's degree in Bioethics and Global Public Health, and is a member of the AUSN Board of Governors. She is currently a research assistant at the Native American Budget Policy Institute at the University of New Mexico where she takes on critical policy projects that support the health and wellbeing of tribal communities across the state of New Mexico.
Moises Santos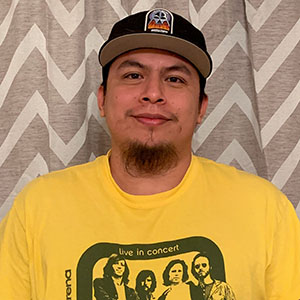 Moises Santos is originally from Long Beach, California but moved to New Mexico in 2013 to pursue his Ph.D. after receiving an M.A. from UCLA in Latin American Studies. He is currently a Ph.D. Candidate in the Department of History. His areas of study include Chicanx Educational Activism, Chicanx History, Borderlands History, and Transnationalism. He has previously taught for the Chicana/o Studies Department at UNM and the History and Cultural Studies Departments at CNM. His dissertation studies alternative Chicanx educational activism in the U.S. Southwest in the middle of the twentieth century. Moises currently resides in Albuquerque with his family.
Mariann Skahan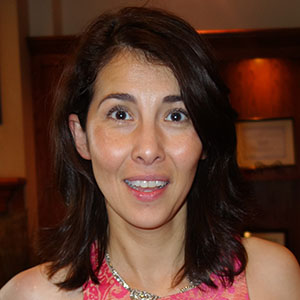 Mariann Skahan is a PhD candidate in the Department of Anthropology at the University of New Mexico. In her dissertation, Language Education and Revival on the Jicarilla Apache Nation, Mariann investigates how past and present-day communicative practices shape Jicarilla Apache language use both within and outside of formal school settings. This work examines the various ways in which language(s) are learned, performed, and taught across time and institutional settings. Her research documents Jicarilla Apache tribal members educational histories spanning from elders who attended Dulce Board School (1903-1938) to Jicarilla adults who attended the first community-sanctioned heritage language programs (1970-1985). Her work considers the impact of personal histories and language educational experiences which allows for a more situated analysis of tribal language revival policies. Mariann currently holds an assistantship for the NSF project Restoring Dignity to Translations of Apache World Views: A Community-Based Re-Transcription and Translation of Jicarilla Apache Texts from the Department of Linguistics.